Of Mice and Men - The Great Depression
Mr. Martin Goracke & Mrs. Madison's 8th Grade English Class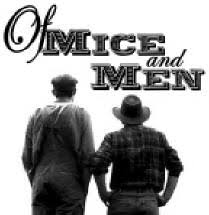 Hamburg's beautiful soul, Mr. Martin Goracke, recently visited with Mrs. Madison's 8th grade English class. Martin's visit was the finale to a two week long unit, OF MICE and MEN. In the story, the main characters, George and Lennie, are ranch hands trying to save for the American Dream. The story takes place during The Great Depression.
Martin was a boy during The Great Depression. He shared stories of America's most difficult financial time and how his family and friends endured the hardships.
In addition, he sweetly smiled and reminisced about Hamburg's past, Saturday night shopping, hand shucking acres and acres of corn, his Model T, his first radio, his first washing machine and his beautiful wife.
Martin Goracke has seen an abundance of change in American culture during his ninety-nine years. His stories gave students a glimpse into a different time period and into a profound period in history.
We want to thank him for sharing his time and memories with us and for being the inspiration that he is to so many.