KMA Media Award!
Sundays With Mike: Long live Hamburg Schools!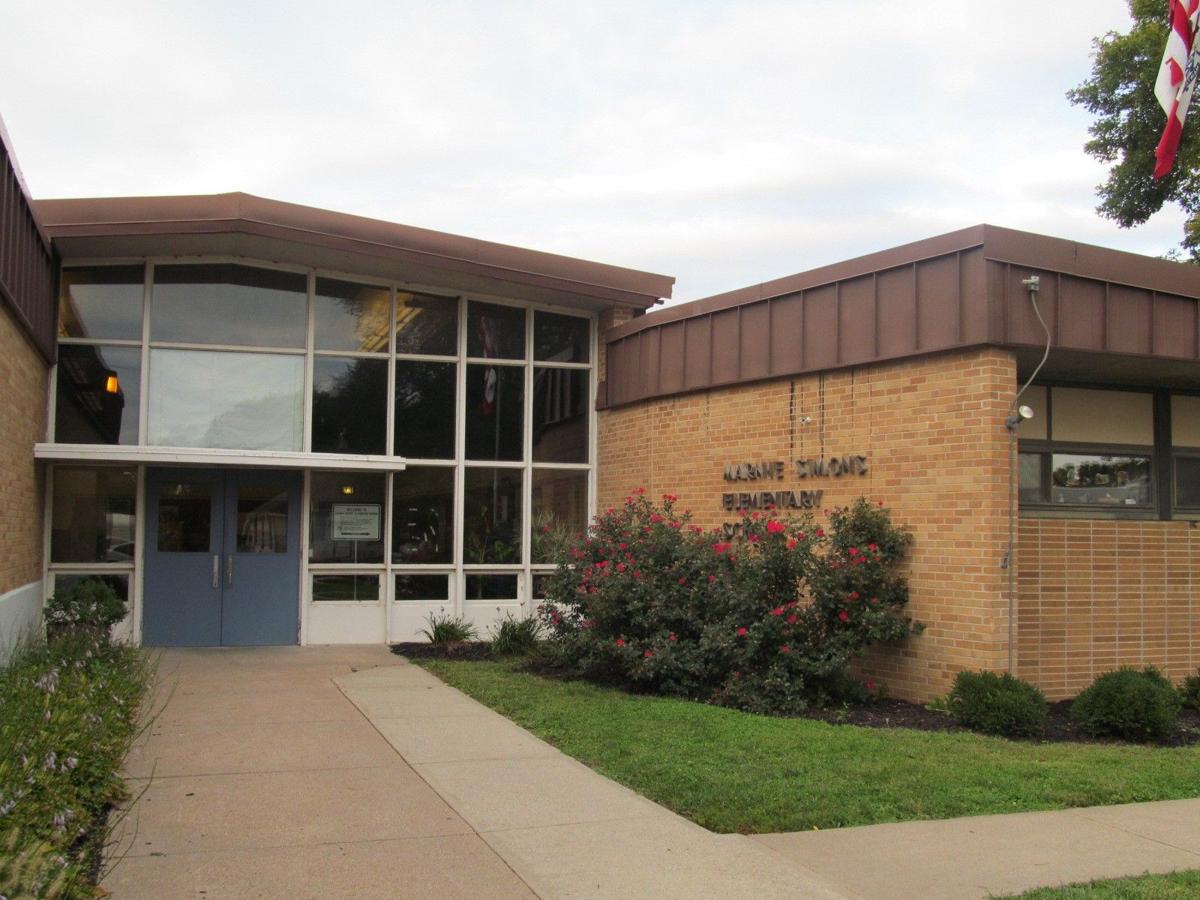 Marnie Simons Elementary School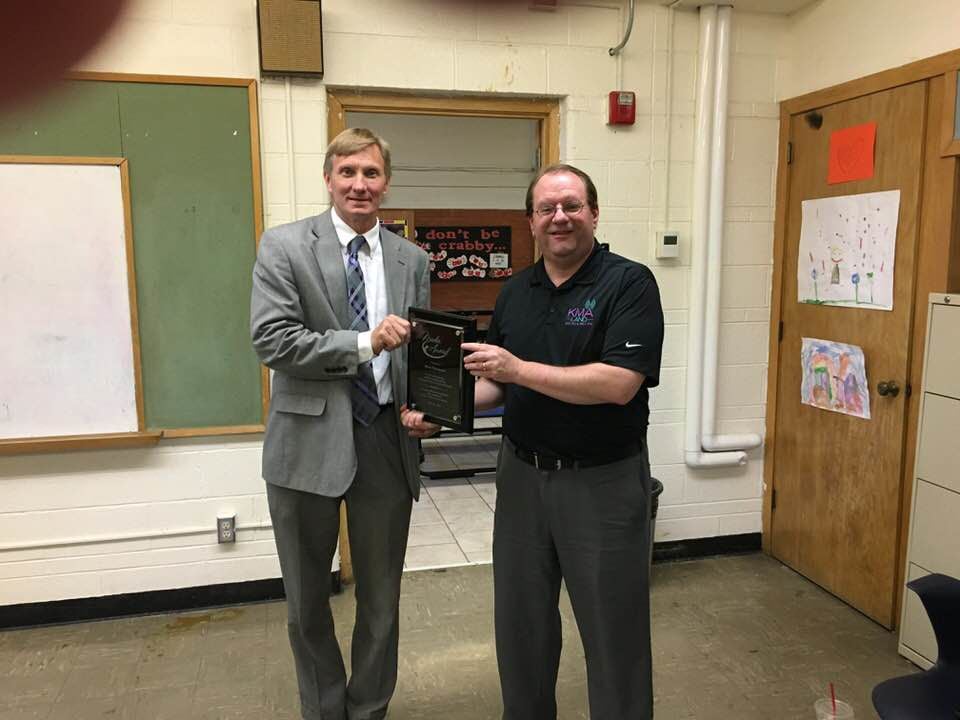 Hamburg School Superintendent Dr. Mike Wells presented KMA Senior News Anchor/Reporter Mike Peterson with a special award honoring the station's "fair and accurate"reporting of Hamburg School District activities over the past few years.
Anyone who remembers that movie, along with the Disco Era (but refuses to admit it), will remember the blockbuster sound track, featuring the Bee Gees' classic hit, "Stayin' Alive."
No, the subject of this blog isn't the History of Leisure Suits. It's about a small school district in southwest Iowa whose theme song could very well be "stayin' alive."
This blog is written this Sunday in appreciation of the Hamburg School District. Granted, this blog was inspired by yours truly receiving a special award from Hamburg School Superintendent Dr. Mike Wells Monday evening. As stated on the plaque, KMA News received the award for its "fair and accurate" reporting of the district's activities over the years.
As you know, KMA News has been fortunate to receive numerous awards over the years from the Iowa Broadcast News Association. But, it's not very often an entire school district honors local media. The "fair and accurate" inscription on the plaque is particularly humbling. It's something we strive for. But, to be truthful, I could name more than one individual or group who doesn't feel our reporting lives up to that moniker.
But, that's beside the point. As I drove to Hamburg Monday night--right after cover a Shenandoah School Board meeting--I began thinking of all the trials and tribulations Hamburg has experienced over the past decade--as covered by KMA News.
There was the whole grade sharing agreement sending Hamburg's high school students to Farragut, meaning the high school building morphed into Nishnabotna Middle School. Then came the rejected reorganization vote between Farragut and Hamburg in December, 2014. Months later, state education officials ordered the Farragut School District dissolved at the end of the 2015-16 school year. Hamburg was then forced to close its former high school-turned middle school building at the end of that same school year for failing to meet state and federal requirements for handicapped accessibility. Those same requirements forced the district to remodel Marnie Simons Elementary School's commons area and restrooms. Plans for an expansion and remodeling of Marnie Simons suffered a big blow in February, 2017, when voters rejected a bond issue referendum.
In addition to all this, Hamburg faced financial difficulties, drawing the School Budget Review Committee's scrutiny.
Following the State Education Board's vote to dissolve the Farragut district in November, 2015, many so-called experts predicted Hamburg's closing would soon follow. Almost three school years later--paraphrasing Mark Twain--reports of the Hamburg School District's demise were greatly exaggerated--at least for now. Somehow, one of Iowa's smallest districts continues to defy the odds, and is still operating. Planning for the 2018-19 school year--and beyond--is well underway.
Credit the work of administrators like Dr. Wells and his predecessor, Terry Kenealy, plus the proactive efforts of board members past and present, for working to dig the district out of its financial hole, and to address issues regarding negative unspent balances.
Credit board members and residents who refused to give up after the bond issue's rejection, and worked to develop "Plan B" as a new plan for renovating Marnie Simons, including a 21st Century Discover Center, a renovated science lab, a safe and secure entryway, and other building improvements.
Credit a Hamburg community for a "can-do" spirit--a town that believes that small schools and smaller classrooms are more conducive to student learning, and believes that enduring the slings and arrows of outrageous misfortune is worth it in order to provide quality education.
And, credit the district's instructors and staff members for keeping education alive at Marnie Simons. That can-do spirit is reflected in the work of Michelle Hendrickson. The Marnie Simons 1st grade instructor was among this year's Charles E. Lakin Outstanding Teacher Award winners.
Of course, like other districts its size, Hamburg still faces challenges threatening its existence. Dr. Wells still laments the Farragut district's redistricting process a few years back, awarding most of the former district's turf to Shenandoah and Sidney. And the 1% allowable growth rate approved by legislators in the just-concluded 2018 Iowa Legislative Session did smaller districts no favor. Then, there's the ever-present challenges of declining enrollment numbers, shrinking populations, a lack of business opportunities, etc.
This reporter has witnessed too many small districts bite the dust in KMAland over the past decade--not only Farragut, but Clearfield and New Market. Malvern and Nishna Valley reorganized into East Mills, while Walnut was incorporated into AHSTW. (No, that's not Bella the Cat walking across my laptop keyboard again. That's the district's acronym).
It's my belief that Hamburg school officials and patrons will find a way to keep their district alive. Hopefully, KMA News will report on many more activities in Hamburg and other area districts to come. And, we'll strive for fairness and accuracy. We have to. After all, I don't want to give that award back if we screw up!
Mike Peterson is a senior news anchor/reporter at KMA News. The opinions expressed in this blog are not necessarily those of KMA, its management or its ownership.